Sale

Zoom the image with mouse
ask an expert
Trak Racer TR8 Mach 4 + Monitor Stand and GT Style Seat
2
sold in the last
8
hours
customers are viewing this product
Trak Racer TR8 Mach 4 + Monitor Stand and GT Style Seat
The Trak Racer TR8 has been named the Sim Rig of Sim Rigs! It's more than strong enough for direct drive wheels and includes an integrated monitor stand as well as a fully adjustable wheel mount, pedal mount and shifter mount.

Fully integrated with the TR8 is a bolt-on single monitor stand that you can add-on to (or not). The included monitor mount acts as both a monitor stand while you're driving and a TV stand that can support up to a 70" display! The TR8's 2" iron construction will ensure maximum stability under race conditions and with the dual tubes running up to the wheel mount will always ensure you have more strength than you will ever need.

The TR8 pedal deck gains its strength from the frame on the underside. It's adjustable with its sliding feature up to 100mm and has angle adjustment for any simulator's most comfortable driving position on the market.

The TR8 is not only rigid, comfortable and built to last... it also looks great!

The TR8 is designed and engineered in Australia
WHAT'S INCLUDED
160mm x 40mm Black Anodized Aluminium Chassis
120mm x 40mm Black Anodized Aluminium Wheel Supports
80mm x 40mm Black Anodized Aluminium Shifter Support
Fully Adjustable Pedal Mount (pre-drilled for pedals)
All Mounting Screws, Brackets and Fixtures included
Assembly Tool Kit Included
Seat Options - GT Race Seat, Rally Seat, Recline Seat or no seat
Wheel Mount Options - Wheel Deck, direct front or Fanatec Podium DD1 DD2. All with full slide and angle adjustment!
Bonus products included
Seat Mounting Brackets. 
Seat Sliding Rails and Adjustment Bar
Rubber Feet to protect floors and level your rig
Adjustable Gear Shift Mount
TRAK RACER TR8 MK3 OVERVIEW
Direct drive & belt drive wheel READY!
Compatible with PC and Console
Compatible with all popular steering wheels, pedals and shifters on the market

Stiffened

 dual-supported NO FLEX wheel shaft

Integrated

 single monitor stand to support displays up to 70" (Triple display stand optional)

Patented

 3-Point adjustable steering wheel mount with slide
Superior build quality, stability and comfort

Improved

 left and right-side gear shift mount with pre-drilled mounting points and slide

Reinforced

 angle and distance adjustable pedal mount, suitable for all the big brands!

Designed and engineered in Australia
FRAME/CHASSIS FEATURES
Solid framework with no obstruction between your legs and no wheel side supports required
580mm wide for firm stance when racing
Low ground clearance with hardwood rubber floor protectors
Finished in 2"(51mm) high-grade steel tubing
INTEGRATED SINGLE MONITOR STAND FEATURES
Adjustable design allows you to swivel the display for use between sim racing and using it as a TV stand
VESA Mounting Bracket for 100mm and 200mm Display mounting points

Optional

 - Triple Monitor Mount (SKU TR-TR8-M)

Optional

 - Large VESA Extension Mounts (SKU TR-80)
MOUNT COMPATIBILITY
Trak Racer has become renowned for both it's strength and compatibility with all the top brand gaming peripherals on the market. Peripherals are not included unless mentioned in the description.
STEERING WHEEL DECK COMPATIBILITY
Thrustmaster wheels (T500, T300, TC-PS, TS-XW, TX)

Logitech G25, G27, G29

Fanatec Elite and Clubsport

Fanatec Podium DD1/DD2

AccuForce V1/V2

MiGe 130ST(small and big with mounting bracket)

Bodnar 53 series with mounting bracket

Simucube 2 with mounting bracket

SIMAGIC M10 / ALPHA with mounting bracket

Contact us if your wheel is not listed!!
PEDAL DECK COMPATIBILITY
Fanatec including CSL Elite Pedals, ClubSport V1/V2/V3 (including Inverted Pedals)

Thrustmaster including 2-pedals (all), T-LCM, T3PA, GT Ed, T3PGT, T3PA PRO add-on and T500

Heusinkveld including Ultimate, Sprint and Pro (Pedal Base not Required)

Quaife Throttle Pedal and Brake

HPP PRX 3P (HPP coming soon)

Logitech G Series

Meca Cup1 (Pedal Base not Required)

OBP Pro Race V2 Sim Pedal System

Simworx Pro Series (Pedal Base not Required)

WAVE IMPETUS (Pedal Base not Required)

Contact us if your model isn't listed!!
SHIFTER MOUNT COMPATIBILITY
Fanatec including ClubSport Shifter, SQ

Thrustmaster including TH8A, RSTSS, TSS+

Prosim PSL Sequential Shifter 

Heusinkveld SQ Shifter

Logitech Including G25, 27, 29, 920 Shifter

DSD SQ Shifter

Jinx Shifter (requires additional bracket)

Simworx Pro Series (requires additional bracket)

Others including Handbrakes - Fanatec Clubsport Handbrake, DSD Hydralulic Handbrake, RealGear RALLYpro Handbrake, Thrustmaster  TSS, Heusinkveld Handbrake, Prosim Handbrake Digital, RX Analog and more!!

Contact us if your model isn't listed!!
DIMENSIONS
Footprint:
W 660mm (26")
L 1440mm (56.7")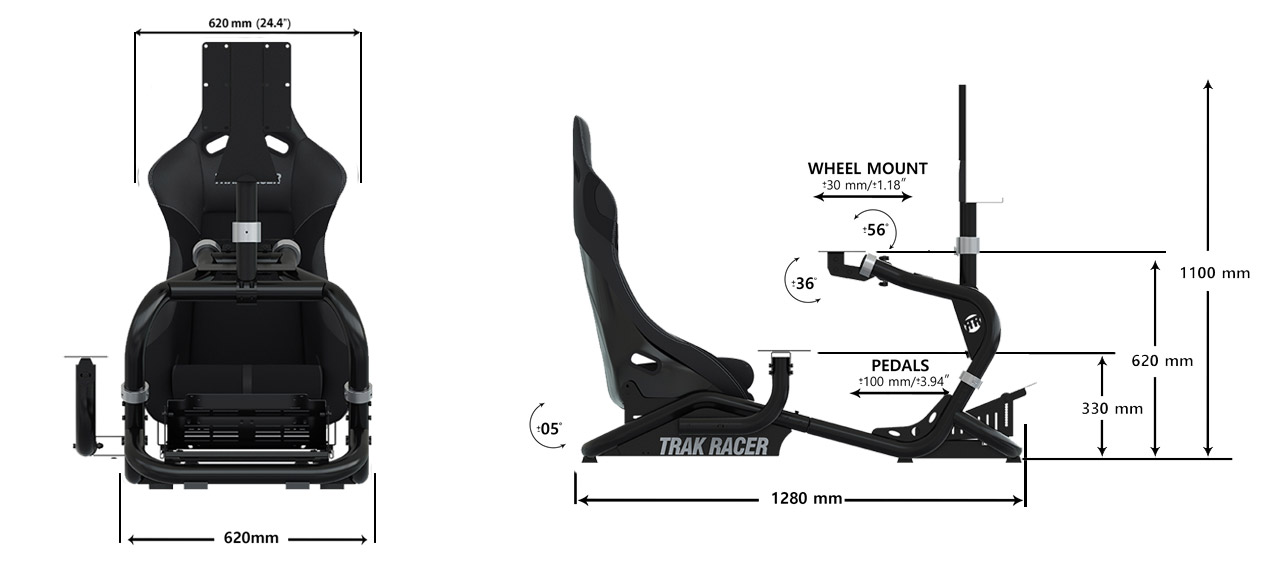 ASSEMBLY MANUALS
Shipping & Delivery
For buyers, knowing when they can expect an item to arrive is an important factor when making a purchase. That's why we always show an estimated delivery date on Simplace checkout. You can find an estimated delivery time on the Simplace checkout page.
The estimate will usually cover a range of days, but it can get more precise after you confirm your delivery address during checkout. It normally takes 1-3 days to receive your tracking code. When the tracking code is available, you will receive an automatic notification from us with your tracking number + link.
Money Back Guarantee policy
To ensure all of our members have a great experience on Simplace, most purchases are covered under Simplace Money Back Guarantee.
Simplace Money Back Guarantee means you're protected if the item you ordered didn't arrive, is faulty or damaged, or doesn't match the listing. You'll get your money back. For all the details of how the Simplace Money Back Guarantee works, please see our full policy guidelines below.
Frequently Asked Questions
When does Simplace Money Back Guarantee apply?
You're covered under Simplace Money Back Guarantee when:
You don't receive an item
You receive an item that doesn't match the listing
You receive an item that's broken or faulty
Our sellers normally work with buyers to quickly resolve any issues, but if you can't agree on a solution, you can ask us to step in and help. In most cases, you'll be covered by Simplace Money Back Guarantee.
What happens if the seller doesn't respond or won't give me a refund?
Under Simplace Money Back Guarantee, the seller has 3 business days to resolve your issue. If you can't come to an agreement, you can ask us to step in and help. We'll review the details of your case and make a decision within 48 hours.
If I refund a buyer, will I get a credit for my final value fee?
In most cases, if you issue a full refund to the buyer before we're asked to step in, we'll credit your final value fee. Insertion fees and other Simplace fees aren't refunded, though.
Get your refund
Once the seller receives the item back from you, or once they've agreed to refund you and let you keep the item, they have 2 business days to issue your refund. When they do, you'll receive an email letting you know.
It usually takes 3 to 5 business days for a PayPal refund to go through. If you paid with a credit card, it may take up to 30 days to process, depending on your card provider.
Get help from Simplace
Most of the time if you have an issue with a purchase the seller will be able to solve it for you. However, if after 3 business days the seller hasn't been able to resolve your problem, you can ask us to step in and help within 21 business days of opening the request.
Misuse of returns or the Simplace Money Back Guarantee
Engaging in activity may result in a range of actions, including issuing warnings to buyers, blocking buyers from requesting returns or refunds on Simplace, blocking buyers from opening claims, the loss of Simplace Money Back Guarantee coverage, and account suspension.
Activity that is not allowed includes, but is not limited to:
Opening duplicate requests using other buyer protection programs
Colluding with a seller to wrongly declare an item's value for customs
Filing a chargeback after receiving a refund
Claiming an item was not received when there is proof of delivery to the buyer's address on the Order Details
Falsely claiming an item was not as described
Returning an item other than the original item received
Using or damaging an item and then returning it
You can find more information about our returns policies by referring to our Condition of returned items policy.
warranty period
If your product becomes defective within the warranty period, and the product has not been damaged by your own fault (for example, by dropping a glass of water over your hardware), we will take care of the settlement of the warranty. We would like to request that you report a defect to our customer service as soon as possible before returning the product to us.
The warranty period for all products is two years, unless stated otherwise on the product page.